Inside Kanye West's troubled Adidas partnership: Tears. Rage. Thrown shoes. Even a scrawled swastika.
A New York Times investigation has reportedly uncovered previously unknown behavior by the hip-hop artist and entrepreneur who now goes by the name Ye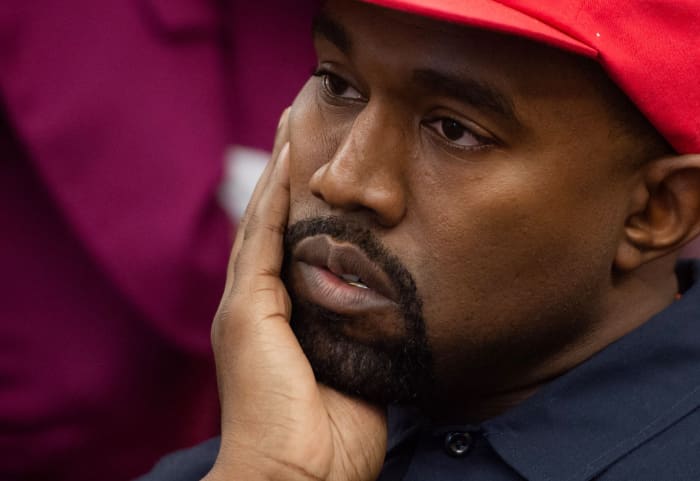 The artist formerly known as Kanye West.
saul loeb/Agence France-Presse/Getty Images
The ending of the partnership between the artist Kanye West, who now goes by Ye, in October 2022 appeared to come after weeks of his comments about Jewish people and Black Lives Matter, but the New York Times is reporting that the relationship was troubled from the very start.
At a meeting on the collaborative creation of the very first shoe in 2013, Adidas ADS, -0.10% ADDYY, -0.03% designers were stunned when West rejected all of the ideas that were presented using fabric swatches on a table and a mood board, the seven-month investigation found. Instead, West, the Times reports, grabbed a sketch and drew a swastika in marker.
The move shocked the Germans in the room. Germany has a strict ban on displaying the symbol of the Nazi era apart from for artistic purposes. Adding to the sense of horror, the company's founder — Adolf, or "Adi," Dassler, who died in 1978 — was a Nazi Party member, and the meeting took place close to Nuremberg, where leaders of the Third Reich were famously tried for crimes against humanity.
"A year ago this week, Adidas threw in the towel."
West's fixation on the Nazi era continued, the Times reports, when he later told a Jewish manager at Adidas to kiss a portrait of Adolf Hitler every day. He also told Adidas workers that he admired Hitler's use and command of propaganda.
West also brought porn to the workplace and made crude, sexual comments at meetings, according to the Times report. Before the swastika episode, West, according to the Times, had made Adidas executives watch porn at a meeting in his Manhattan apartment.
In 2022 he reportedly ambushed executives with a porn film. Other workers complained to top managers that he had made angry sexual comments to them.
The artist, said to have been diagnosed with bipolar disorder, also frequently cried or became angry during meetings, according to the Times investigation. In one instance in 2019, he reportedly moved the operation designing his shoes to Cody, Wyo., and ordered the Adidas team to relocate. In a meeting to discuss his demands with executives, he threw shoes around the room, the Times reports.
Adidas sought to adapt to this behavior, given how valuable the West-established Yeezy brand was to the company, locked in a perennial battle for both revenue and buzz with its U.S.-based rival Nike Inc. NKE, -2.04%. Yeezy sales would rapidly surpass $1 billion a year and help Adidas resonate with young American customers.
Ratings Game (July 2020): Gap hopes it can burnish its image with a new Kanye West clothing line, repeating the rapper's brand success with Adidas
Managers launched a group text chain they called the "Yzy hotline" to discuss his behavior. To reduce stress on individuals, the company is said to have rotated managers in and out of dealing directly with West.
Over time, meanwhile, Adidas sweetened the terms of West's deal. Under a 2016 contract, he was entitled to a 15% royalty on sales with a $15 million upfront payment as well as millions of dollars in Adidas stock. In 2019, a further $100 million a year was earmarked for marketing, but, in reality, West could spend those funds at will.
A year ago this week, though, as public awareness of West's problematic attitudes are remarks spiked, Adidas threw in the towel, and as sales of Yeezy shoes fell away, it warned it would record its first annual loss in decades. As West's net worth plummeted, the company wrestled with the decision of how to dispense with its final $1.3 billion in Yeezy products, mulling options including disassembly and repurposing, donation to charity, and outright disposal.
When a decision was reached to sell the product — in release batches — with some of the proceeds directed to charity and most of the rest flowing to Adidas, West, even then, was entitled to royalties.
From the archives (October 2022): Kanye West is no longer a billionaire after Adidas shelves Yeezy partnership
Also see (November 2022): Nike parts ways with Kyrie Irving as controversy swirls over Brooklyn Nets star's apparent endorsement of antisemitic film
After bottoming in October 2022, Adidas shares have mounted a 67% comeback, with relief over the company's not having had to book a damaging loss on the Yeezy line one factor in the restoration of investor confidence.
Adidas is quoted as having told the Times that it "has no tolerance for hate speech and offensive behavior, which is why the company terminated the Adidas Yeezy partnership," while West reportedly declined requests for interviews and comment.
The Times investigation is said to have been based on access to hundreds of previously undisclosed internal records.
Read on: Michael Jordan is now worth $3 billion. Here's what billionaire athletes have in common.