The fact that UEFA has just announced that it will cooperate in organizing the next Golden Ball has turned the situation of the Ronaldo vs Messi race upside down.
On the afternoon of November 3 Vietnam time, European Football Federation UEFA announced an official cooperation with France Football magazine to become co-organizer of the next Golden Ball award. In terms of tasks, UEFA will take care of aspects related to media commerce while France Football's award system will remain the same.
That means the UEFA tournament system will now be replaced. The best player award in Europe will be eliminated, or in other words merged with the Golden Ball based on France Football's voting system.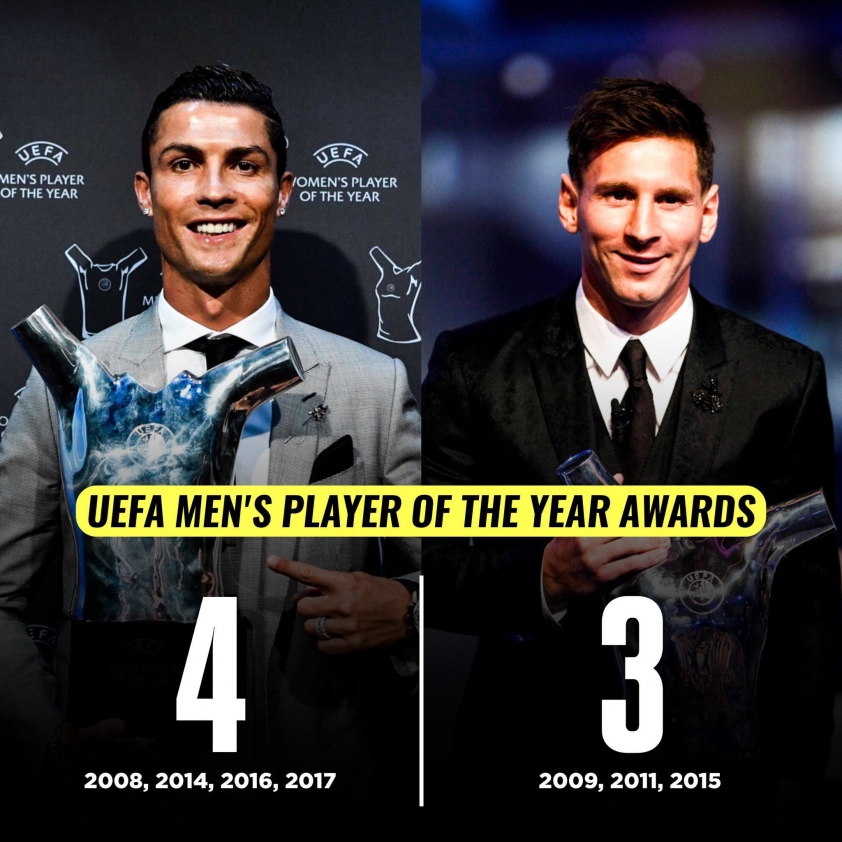 Notably, this historic change has caused the award race between legends Cristiano Ronaldo and Lionel Messi to be somewhat reversed. Accordingly, if counting the UEFA best player awards, CR7 is the better one.
Ronaldo has one more UEFA best player title than Messi – an award about to be merged with the Golden Ball (photo: Twitter)
Accordingly, Cristiano Ronaldo is still the player who owns the most UEFA Player of the Year awards in football history with 4 titles (2008, 2014, 2016, 2017). He ranked above his rival Messi, who was honored three times in the above category (2009, 2011, 2015).
This record will certainly not be broken in the future because both Ronaldo and Messi have left Europe and the award will officially be discontinued from this season. Erling Haaland will be the last name honored in the UEFA best player category before it is merged with the Golden Ball.
However, if you count the total of UEFA awards and the Golden Ball, Messi is the leader with a total of 11 titles. Meanwhile, the number of awards mentioned above for the Portuguese superstar is currently only at number 9.